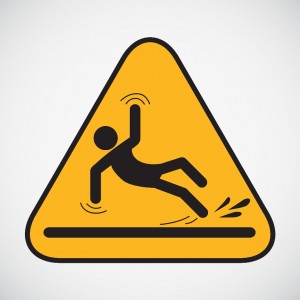 Property owners have a responsibility to maintain their premises to insure lawful visitors are not subjected to a dangerous condition. A dangerous condition on a premises is usually based upon negligent maintenance or construction on the property involved.
Commercial and residential property owners can be held accountable for failing to take proper precautions to avoid slip and fall accidents on their premises.
Ice and snow fall down cases are fairly common and oftentimes difficult to prove. The main problem with proving these cases is the evidence melts or is subsequently materially changed. In this day and age a cell phone with a camera is an important tool to preserve evidence in these cases. We highly recommend that several photos of the premises involved be photographed as soon as possible after a fall.
Your rights in an ice and snow fall down case may depend upon your legal status on the property involved. A tenant of a rental property, hotel or boarding house has rights set out in the Massachusetts State Sanitary Code. Under the terms of that code "all means of egress shall be free of ice and snow." Therefore evidence by way of photographs coupled with a rental agreement may prove invaluable in this type of claim.
I have interviewed many injured parties who fell on municipal sidewalks or roadways. Unfortunately the cities and towns of the Commonwealth of Massachusetts cannot be held liable for ice and snow fall downs. This immunity is granted by statute; therefore, parties injured in this manner have no legal recourse. Cities and towns can be held liable for other defects in public ways; however by statute any recovery is limited to $5,000.00.
Therefore it is important to discuss the facts and circumstances involving a slip and fall case as soon as possible after the accident. The legal status of the injured party and that of the proposed defendant have to be identified. This is true whether the fall occurred inside or outside, on a commercial property or on private property, and hopefully not on a property owned by the government.
If a property owner's negligence caused you to suffer a personal injury, call the Attorney William Fallow for a free initial consultation, and our Law Firm will take care of your case.