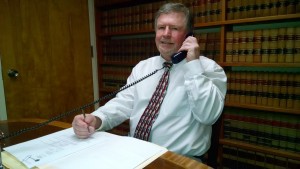 What Attorney William E. (Bill) Fallon likes to do best is help clients through the difficult times after a personal injury. Fallon Law Firm has over thirty years experience on both sides of personal injury claims. For over 20 years, Mr. Fallon was the primary defense council for several large insurance companies. Over the past ten years Bill has exclusively represented Plaintiffs in personal injury cases.
When you meet Attorney William Fallon you fill find a friendly and competent man who will immediately put you at ease. At the initial interview you will learn the manner in which your case will proceed and likely future developments.
With Many years of experience on both sides of personal injury cases and with multiple contacts in the legal profession and insurance business, the Fallon Law Firm is prepared to represent you. All cases accepted by the Fallon law firm are based on a contingent fee agreement. Please contact our office for an initial free interview.